This is not another April Fool's Joke, Illyriad is proud to present our latest user interface refresh. As the game grows and evolves, more features are added and finding the best way to display those features is an important part of the development process. With the new UI, we hope to add some valuable usability improvements as well as give the overall game presentation an updated look.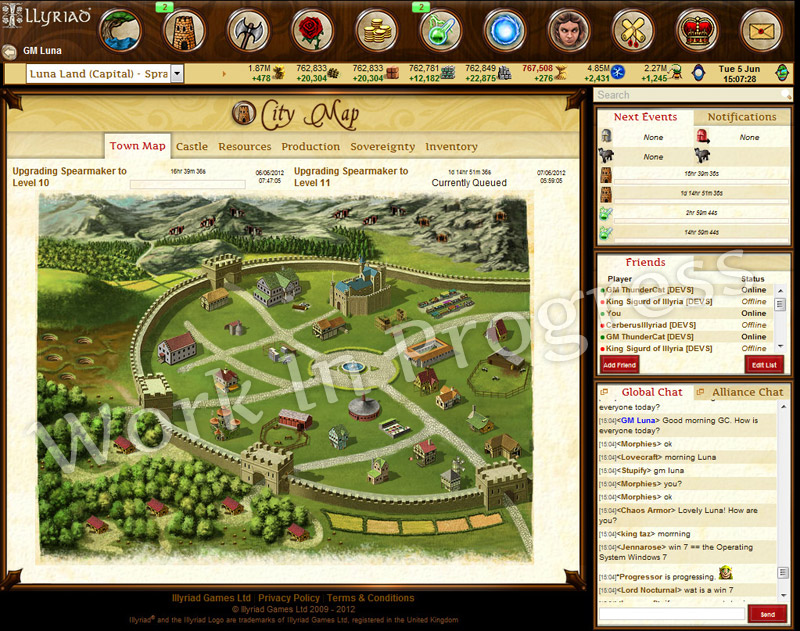 Some of the updated features and visual changes are as follows.
New sidebar: The sidebar has been condensed to hold more important information and features. It now consists of three tabbed sections. The first is a tabbed box for next events and notifications, in the middle is the friends list and at the bottom is a tabbed box for both global chat and alliance chat. Players can click on the title header to bring the preferred tab to the foreground at any time and the global chat and alliance chat tabs can be undocked for viewing both at once.
Next events: The next events section shows both items you have queued for building and research.
Super search: The top portion of the sidebar contains a search box that you can use to find anything in game including players, towns, alliances and pages.
Friends list: With the friends list feature, you will be able to add fellow players to your friends (through a mutual agreement) and see when that player is online. This feature will become even more important when private chat becomes available in a later game update.
Positioning memory: In the new UI, tab settings and chat window placement will be remembered by browser. If you refresh or log out and back in on the same browser and computer, last size and positioning will be kept.
Navigation: A two-tiered tabbed navigation system is at the top of all pages, with links to pages within that section of the game. Players can choose to use this additional navigation, or use the radial menus at the top of the page, as is currently the style in game.
Herald: The lore portion of the Herald has been split into its own page that looks and functions like a book with turning pages. This creates a fun, interactive way to display the lore of the game as it evolves over time.
Stats page: The release notes and stats sections, previously on the Herald, now have their own page.
Player profiles: Profile pages have sections to display alliance medals and titles.
Visual changes: Stylistic, visual changes have been made throughout the UI to create a cleaner visual presentation and better use of space. Many elements, such as type style and buttons have a similar appearance to the Illyriad website. Interior pages and sidebar edges use a thin, wooden frame, with paper texture interior and golden patterned texture for headers. We believe this creates a cleaner, more cohesive presentation of the game as well as a more flexible framework that we can add to as needed.
We hope you enjoy these changes to the Illyriad UI and find it both easier to use, and more visually appealing. Please feel free to leave your thoughts in the comments section or on our forums. These UI changes and more will be available in our next game update.
GM Luna
Click for full size images.