For quite some time, Illyriad players have asked us for a way to share prestige with their friends. The dev team has had some reservations as to how we could go about providing this option in a way that works best for both the game and our players.  The solution that we've developed is the introduction of the Alliance Prestige Pool.
The Alliance Prestige Pool will function as a communal bank to which all alliance members can donate and, depending on permissions, spend in game. Alliances will set permissions based on alliance role that define who  has access to spend the prestige and at what amount their daily spending limit is set. Individual players within the alliance with appropriate access can then choose to spend their own prestige on items for their account such as instant builds, production bonuses and other prestige items, or they can spend from the alliance pool.
Another function for the Alliance Prestige Pool is as a way for players to bind together to purchase Alliance Medals for fellow players. The associated prestige cost for these designs will be deducted from the alliance pool, so that players can purchase the awards at a shared cost. As these awards are meant to represent recognition from an entire alliance to an outstanding player, we believe this is the best way to approach the system.
More information will become available with the release of the Alliance Medals and Alliance Prestige Pool in an upcoming game update. Until that time, below you will find common questions and answers about the system.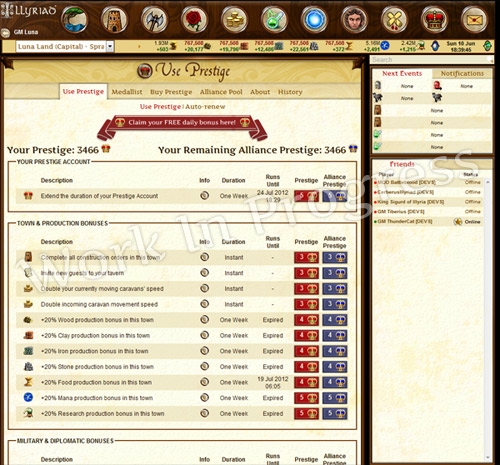 Alliance Prestige FAQ:
What is Alliance Prestige?
Alliance Prestige is a shared amount of prestige that has been donated by players into their Alliance Prestige Pool.
What can Alliance Prestige be used for?
Alliance Prestige can be spent on individual player bonuses as well as Alliance Medals.
Who can spend Alliance Prestige?
Spending limits and roles associated with permission to spend prestige are set by individual alliances.
How do I donate?
Visit the Alliance Prestige Pool page in game and choose "contribute" to donate from your personal prestige amount into your Alliance Pool.
Can I withdraw prestige from the Alliance Prestige Pool?
No. Players can only donate or spend from the Pool. No one can withdraw prestige into their individual account from the Alliance Pool.
What if I accidentally donated the wrong amount?
Prestige transactions are non-refundable, including donations into the Alliance Prestige Pool. Donation is a one way transaction that cannot be reversed by any means, even by the GMs.
What if I accidentally spent Alliance prestige instead of my own?
The GM staff cannot refund the amount you've spent back into the Prestige Pool. The best way to remedy this, if you've accidentally spent Alliance prestige, is to donate the amount you spent back into the Pool from your own funds.
What if I leave the Alliance?
Any donations you made cannot be refunded or returned to you. Once Prestige is donated to an Alliance, it is the property of the Alliance and no longer that of an individual player.
If you have any further comments or questions about the system, please feel free to leave them in the comments section on this post or on our forums.
GM Luna