With the introduction of gathering and crafting for troop equipment, armies in Illyriad are going to become much more customizable and can be tailored to suit specific combat situations. You can specialize for terrain, biomes, tactical roles or even day/night combat.
But who says the armies are the only ones who get to have all the fun? Your commanders will be able to use equipment items too.
Just like their armies, commanders will get to choose a piece of armor, a weapon and a mount on which to ride.
So, for example, if you had equipped your army division with this specialized horse that gives a bonus to movement speed, you would want to make sure to give one to your commander also, so that he will benefit from the bonus as well. Or you may choose to give your commander the best equipment available, while finding more cost effective versions for the rest of the army.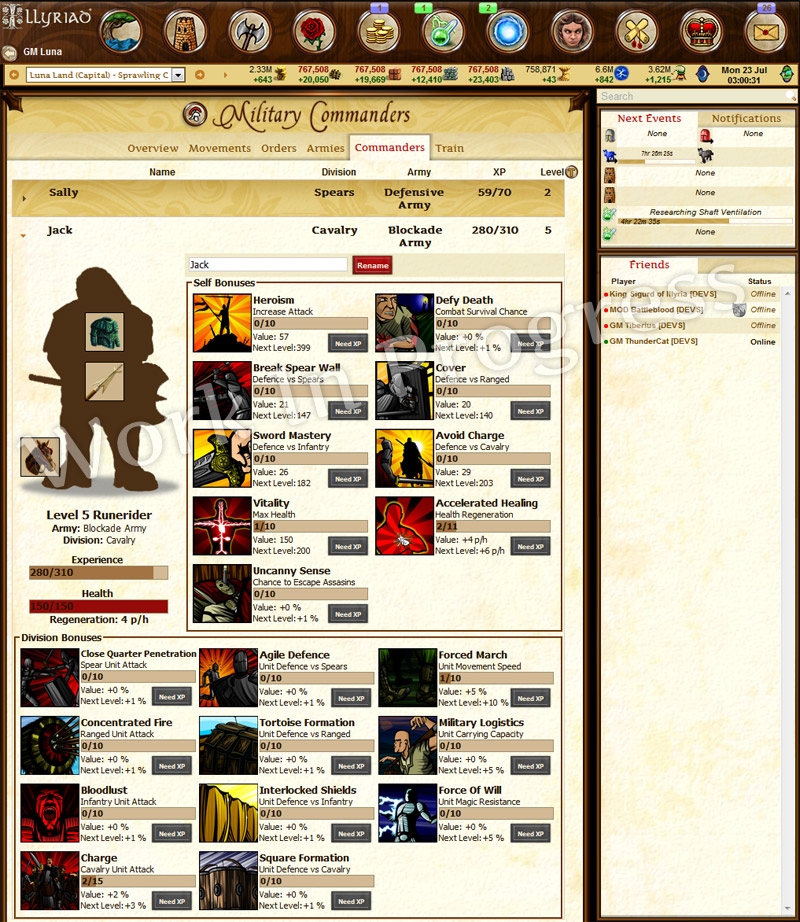 The second part of the addition of equipment for commanders is the re-design of the commander screen.
Now, rather than being only a text-based screen, you can see all of the icons for commander abilities that you have researched.
Items in color are those you have researched, with the others in black/white.
The commander is shown as a silhouette with three slots available to add the equipment items.
Health and experience are shown in bars, so you can see how close you are to the next level or how much health your commander has left.
If you have the required experience you can click the button next to each ability to level it up.
The re-design of the commander screen, as well as the ability to equip your commander will be coming with the harvesting and crafting update.