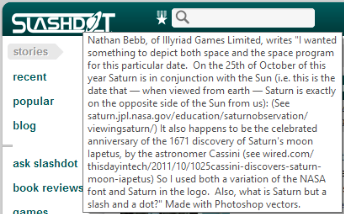 The last month has been something of a geek-fest for Illyriad's developers. Between GDC Online in Texas a couple of weeks ago, lots of games industry chat at the Game City events in the UK, Extra Life last weekend and then the Geek Media Expo in Tennessee this weekend, we're happily talking code, design, and the joys of Illyriad to anyone who'll indulge us, and having a whale of a time.
And it was great that today we got two nods back from the rest of geekdom.
First, our very own GM Cerberus had a logo design for Slashdot featured. To celebrate, as they put it "15 years of News for Nerds" Slashdot invited readers to submit redesigns of their logo, with selected submissions featured for one day in October. Cerberus's design has been selected to appear today. It weaves together the conjunction of Saturn with the Sun, a font inspired by NASA, and some astronomical history – and in case you miss it on Slashdot, we've grabbed an image from their site, which you can see here.
Second, today we found ourselves prominently featured atop Google's Chrome Web Store. You can see the banner below. We'd like to heartily welcome all of the new players who have joined us from the Chrome Web Store.
So, congratulations to GM Cerberus for impressing the folks at Slashdot, and many thanks to everyone at Google for featuring Illyriad.