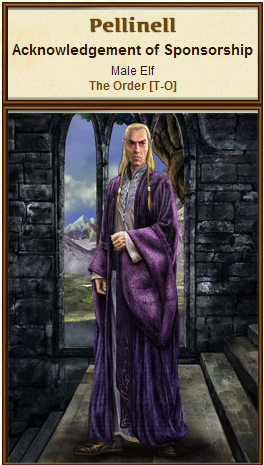 Nominated by his Alliance-mates, this month's Player Spotlight focuses on leader of the Alliance, The Order, Pellinell. A big thank you to those who sent in nominations, and to Pellinell for his contributions to the Illyriad community. Learn more about the Player Spotlight program at our website and nominate players by sending an email to community@illyriad.co.uk. 
What brought you to Illyriad and how long have you been playing?
I actually found Illy by chance. I was bored and looking for something to do, I discovered Illy through a google search. That was in December of 2011. I was instantly hooked!
Have you played many other online games or been active in other online communities?
Illy is my first online game and the only one I play currently.
Any hidden talents or interesting hobbies outside of gaming?
A hobby besides Illy ? I love being outside. Camping, fishing, hunting and just being in nature is something I enjoy very much.
What keeps you playing Illyriad?
The Community is a huge part of what keeps me here. Aside from that the tourneys and friendships I have made here keep me interested. I also very much enjoy the complexity and intricacies of the game.
What's your favorite aspect of the game?
Again I would say the community is one of my favorite aspects. But I also enjoy the tourneys and building my cities.
What's your proudest achievement in game so far?
Starting The Order and growing from a small 2 member alliance with less than a 100,000 population to what it is today. Of course I share that achievement with my alliance mates. They are great!
What are you most looking forward to for the future of Illyriad?
Factions! I am looking forward to what that will bring to Illy. And of course I am looking forward to Broken Lands.
What area of the game do you think needs the most improvement?
The mail system could really use a overhaul. I would like to have the ability to place mails in folders and maybe a search box to find older mails.
What advice would you give a new player in Illyriad?
When I was a newb I was surprised at how helpful everyone was. Within my first few hours Myr and Lurking had sent me res and answered my newb questions. I would say any new player should make them selves into GC and introduce themselves. The players there are very helpful and happy to help with resources and helping with strategy and answering newb questions. For me joining Toothless? was a great help and I would recommend T? to all newbs looking for a place to learn the game and develop friendships that will last throughout your time here.