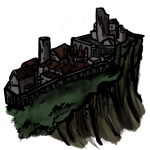 From the daily reports of Commander Cirian Danorian, deep reconnaissance mission.
Day 7, evening: We have camped by a huge rock, with a crude carving chiselled into it. The figure is vaguely humanoid, but has no eyes. Our scribe tells us that it is meant to be a spirit called Melloris. Allegedly the spirit has manifested to the leader of a local community, who described it as being made of gold, supremely beautiful, but blind. The lack of eyes might indicated blindness, but the strange shape of this figure does not suggest beauty, just a very poor stone carver.
Day 8, afternoon: We have spotted a stronghold high on a cliff. Its stone walls look ancient, but are partly ruined and have been recently and crudely patched with wood. Still, its position makes it seem impregnable. As we approached we found human farmers working small fields in the valley beneath, but they fled at our approach. We have made camp, and sent scouts up the cliff path to investigate.
Day 8, evening: Our scouts have not returned. We have also had visitors. A group of armed men, armoured, carrying bows. They said that they were a search party from the stronghold. They said they were looking for "Heretics who have fallen from truth and fled from the light of Melloris", who they wanted to find in order to "save" them by taking them back to the community. They were very well armed for a friendly search party.
Day 9, noon: Our scouts have returned. They say that they were worried about climbing back down the cliff path in the dark. They also mentioned good food and warm beds in the settlement above. They report the community being confused by their visit, but there was no hostility. We will all trek up the cliff this afternoon, as a safe and comfortable place to stay would be welcome.
Day 9, evening: We have found passable food, warm beds, and solid fortifications. It is a welcome change from sleeping in a camp in the wilds. The locals are little inclined to talk to us, however.
Day 10, noon: The inhabited settlement is small. Just a couple of thousand people, but the location is so secure that no army could assault them. The people still avoid us, and lots of doors are locked. The old ruined parts of the stronghold are extensive, however, and merit more investigation. We are not the only visitors, as there is a small market. We found a small band of ragged elves trading here, and they say that the locals are as unfriendly to them as they are to us.
Day 10, afternoon: I was summoned to appear before the community's leader. He sat on a large but crude throne, wearing the vestments of a priest and a large silver crown. I vaguely remember him. In Virten when I was young he was called Jerrian, and he was considered a possible future King of Virten. He was renowned as a virtuous man but the College of Silence suspected that he was mentally unstable. Now he leads this self-exiled community, and I was told to address him as Blessed Prophet of the Golden Spirit, not by his "former" name. He had summoned me to complain about one of our expedition. Apparently our scribe had been "spreading lies, infecting the minds of the true believers, promoting falsehood and immorality". I doubt it. None of us have spoken much to the locals. But he clearly wants us to go, so I said that we would leave early tomorrow. I have no idea why he is hostile to us, but there was no point arguing.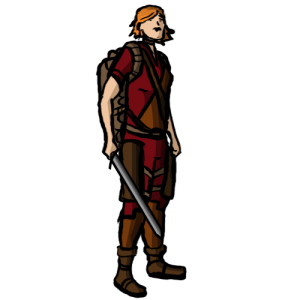 Day 10, evening: Organised a search of the ruined areas, without alerting the locals. We found several rooms that looked like ritual areas, abandoned for centuries. Most interesting was a grand mural, dusty and cracked, from before the Sundering. It seemed to show a wizard or arch mage, depicted with a great staff, one eye covered with a patch, and one of his hands shown as being gold.
Day 11, morning: We set guards last night, and they woke us before dawn. They had seen movement where our horses were stabled, and they intervened, uncovering a partially dressed local woman and one of our animal handlers. He said that she had seduced him and asked him to stay and marry her. She said that he had tricked her into spending the night with him. I believe him, not her. He doesn't have that much guile, and I don't trust these people. We are leaving now. I would rather be out in the wilds than have to contend with the lies and paranoia that confound us here.