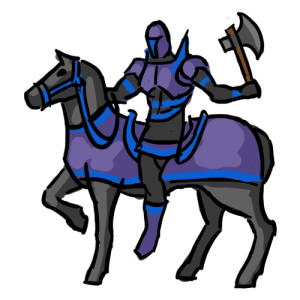 Having noticed animal populations moving around the map (wandering, breeding, dividing, sometimes fighting), players might reasonably expect that more NPC movement is in the cards. So, as developers, we should 'switch on' all NPC movement now, right? Well, before we are able to do that, there are a lot of things to consider.
As an example, take a look at the fellow on the right. In fact, just look at one detail. Look at the length of his legs.
Realistically, the rider's legs are too long. So, the legs should be shorter. On the other hand, there is a tradition of showing riders out of proportion to their horses, and for very good reason: the Bayeux Tapestry for example shows riders whose toes seem almost to scrape the ground, but this is no error; showing the horse relatively reduced is a way to show more detail on the rider, and in a game like Illyriad, where the unit images are often very small, we want people to be able to see the rider clearly. So, the proportions are about right. But on the other hand again, our players will not be looking at the images as art historians, they will just see that the legs are too long. But then, perhaps there is a compromise….
That tiny detail took effort to talk through. It was an issue that we had to settle, so it required time. But in the grand scheme of NPC movement, it is a tiny detail – and just one of many tiny details. The whole process of 'switching on' broader NPC movements is a mass of tiny decisions, ranging from whether NPC cavalry would roam further from their homes than infantry, to whether Wulpor have preferences for what meat they eat, to whether Faction armies might intervene in sieges, to whether the perpetually-stoned Gnolls of Illyria would show intelligence in their battle tactics… and on, and on.
What sounds like a very simple goal, 'switch on more NPC movement', becomes a maze of these tiny decisions, which all need to be made. But we're working our way through them. The devil is in the details. And so is the fun of developing the world of Illyria.