Winter has come. The days have grown short and the nights long.
High above the lands, the atmosphere is almost serene. The wars and daily conflict seem far away; but even here the busy activity and effects of players can be clearly seen!
At night the lights of the settlements and sovereignty glow bright:
Flying into central Elgea you can see the ring of settlements formed by new players:
Looking to the south-west, the outline of the ocean is visible as well as the smaller settled islands. Also some almost constellation-like joined up lights can be picked out:
Turning up the contrast and zooming in shows some interesting player land claims. All over the map an Alliance is claiming road like structures: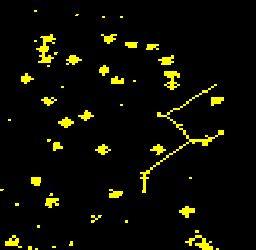 While another owns land in a shape that resembles a person with a hat and a cape?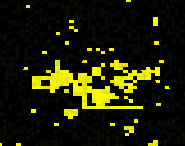 Reviewing the bill of land ownership lodged at King Sigurd's Council Of Illyria; indeed this land is claimed by the alliances: Fairy Road Authority and Silly Hats respectively. Creative expansion plans!
Academic Aside: An interesting analysis, when just considering player towns (excluding sovereignty), their arrangement resembles a Poisson disk sample. 99% of these towns outside the "new player ring" are consciously placed by thousands of individual players acting independently.