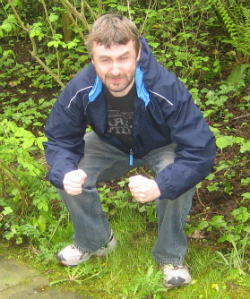 How did you find Illyriad, and what made you give it a try?
I had just come off a 23,360 hour long stint of World of Warcraft and decided I should probably start paying my mortgage and eating something other than thai basil fried rice from the local takeaway. After some time, once I had begun to recognize that sunlight was my friend, and that blinking occurs naturally, I wandered instinctively back over to my Dell Optiplex 745 and searched for some old browser based games of Risk.
While splendidly losing Brazil (because some other clever bugger had taken Australia first), I gazed distractedly at the sidebar banner ad. I lamented the lack of barely clad, large chested maidens beckoning me to "Come Play Discreetly, my Lord". I did see the words "deep strategy" though… that got my blood pumping and made me swoony. By this stage, South America was lost and with it my 2 army bonus.
Deep strategy, eh?
So, I signed up. I immediately liked the slower pace of the game and after playing for a while loved the idea of real loss and therefore real risk. I figured this slower pace would force me to step away occasionally and encourage my re-integration with society. The map was huge and I was quite taken with the regional aspects and persistent state of the game. I headed over to the forums, saw some excellent posts in the long forgotten "Bitter Sea" and the rest is history.
Do you ever dream of doing particular things in game that you cannot do now?
Seriously, sending emails with multiple recipients and a CC option would make me quiver at the knees. Barring that, I'm fairly partial to the military side of things. There have been some brilliant suggestions made already on the forums that I would love to see implemented regarding region control in the form of capturing nodes. I would also like to see defensive options added to a city under attack. Things like additional fortifications (other than walls) that are the *sole* target of siege engines. I'd love to have an option to sack a city once the siege is successful. Total destruction of a city should take a significant investment to achieve. It should take months to raze what takes months to build.
Give me a good war story.
A lot of players think or thought that the Baughb account and StJude account were played by the same person. I'm not sure I can do much to persuade those of that mindset otherwise. Early on, he and I were introduced to a player who would later be known as Gaia Nutella Tulips. It was due largely in part to his recruitment efforts that I joined the fledgeling alliance, "Havoc Unleashed" in Kumala. There was an "incident" and shortly (in Illy terms anyway) thereafter Baughb and I went our separate ways from Havoc. We were both interested in the "Deep Strategy" side of things that Illyriad had to offer and we took advantage of this separation to explore this "Deep Strategy" thing with our former alliancemates. Things were rather silly, all things considered. Our declaration of war was over the top, frivolous and laced with more sarcasm than the number of caravans sent by Global Chat to unwary newbs. There was some good banter and funny exchanges between us and several members of Havoc amidst all the drama. What I think speaks more about our intentions than anything, is the surprising and daring move made by Gaia Nutella Tulips in the middle of the war. GNT, as he will now be referred to for the remainder of the story, still maintained his relationship with Baughb and I,
He frequently exchanged friendly in game mails with us, but never betrayed his alliance by providing insight or intel on their plans. We developed a good rapport I think and we did a good job convincing GNT that there was no malice involved. We were in it for the fun of the competition and GNT recognized that. Someone else can fill in the rest of the details, but GNT informed his alliance leader (Jonny112) that he was going to be leaving "Havoc Unleashed" and joining the Baughb and StJude circus. Even while he was a member of our merry little band, he remained tight lipped regarding any information he might still hold regarding his former alliance. He was truly a class player and as extremely fun loving guy. It was folks like GNT and his antics that kept me logging in to the game and one of many reasons I wanted to come back. We never really took ourselves seriously and this alliance switch mid war, all in the name of fun was one of my favorite moments in the game.
Give me a good newbie tip.
Illyriad is like prison, I advise finding the biggest and baddest alliance and/or player and making a bold statement. Once you have established your dominance, the prison yard is yours. That, or find a player much smaller than you and take all their stuff. Most importantly, be sure to declare your sovereignty over an area. Research siege weapons ASAP and use them to clear the area of rabble rousers and anyone who rustles your jimmies. The Illyriad community respects and encourages this kind of aggressive and forward thinking behavior. Your mailbox will be flooded with invites to various well renowned alliances and you will wake up in the morning to an inbox filled with digital high fives and attaboys.
If that's not your cup of tea, join a training alliance while you get the lay of the land. This is a unique phenomenon in MMOs as far as I can tell. I'm not aware of any other games doing this.
Give me 500 million gold.
Give me an Illy T-Shirt with Stormcrow and Thundercat dressed as a sexy fire marshall and a lusty B2B Integration Solution Architecture Analyst II, all while parading King Sigurds head on a stake and we have a deal. 1200 prestige is also on the table. Singles only please, I want to tuck them into the waistband of GC.
How has Illy changed the most over the years?
Wow, interesting question. Illyriad is more than the sum of its parts. I think the greatest change I have observed is how knowledgeable the overall player base has become. There is a pretty good understanding of the mechanics of the game with a lot of good tools available to help with decision making.
Name something that you think should be changed or tweaked immediately.
The siege mechanic and a limit to the number of troops that can occupy a tile. I'd also like to see a scaling cost for troop upkeep that increases the larger your city is. I cheated, sorry, that is more than one "something".
I like War.
Thanks to StJude for participating in the Player Spotlight! If you would like to nominate someone, please send your reasons to community@illyriad.co.uk!
GM Rikoo