The strength of Illyriad's character art is that it isn't as good as it needs to be. It's deliberately much better than it needs to be.
It's the Abba theory. Abba, the theory goes, may be at heart mere Pop music, but it has stood the test of time and is still well loved, because it is much better than it needs to be. Abba may be inconsequential Pop, but it's so wonderfully crafted that decades later the songs can still delight.
The character art for Illyriad has been broadly praised, and many of the individual portraits have a quality that brings a smile to the face. The key to this, I think, is that we didn't set out to make the characters good enough, appropriate, acceptable. We set out to make them brilliant, and then poured love into them. It's easy to say, but hard to do – and requires a much greater focus on the details. Look, for example, at this close-up of our male Dwarf – at his pauldron and the buckle on his breast-plate: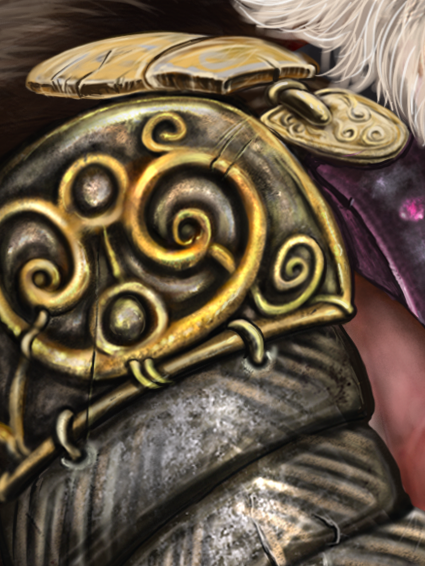 No-one ever needs to see the character this close up. Players will see this piece of armor at between 10% and 30% of this size. We never said to ourselves "do we need to show scratches and chips on his armor? do we need that much subtlety in the texture on the metal?" We just put the detail in without questioning it, because we were determined to make the portrait brilliant. But having lavished love on each inch of a character, the overall effect, when you stand back and look at him or her from a distance, is that the quality shines through.