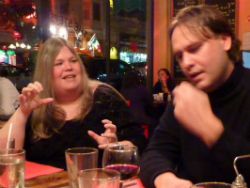 Another nomination from the community, this month we get to know Rill as our Player Spotlight. A big thank you to those who sent in nominations. Learn more about the Player Spotlight program at our website and nominate players by sending an email to community@illyriad.co.uk. The player who gets the nomination can choose between a t-shirt from our shop or from 1200 Prestige! This time we received a ton of nominations, but the most came in for Rill, a player who is one of the most well-known and helpful players in Illy! /cheer
What brought you to Illyriad and how long have you been playing?
I searched for a long time for Illy before I found it.  I perused many lists of MMOs and MMORTs, trying many that I don't even remember any more.  Finally in June 2011 I came across the announcement of Illy's official launch.  I made a new e-mail address, expecting to encounter yet another Evony clone and was pleasantly surprised to discover Illyriad in all its friendly, deep, complex, carefully crafted glory.  And so I've stuck for almost three years now.
Ryelle, by the way, would like me to mention that she is rather offended that this article is not being written about her.  I explained that she hasn't had an active account in Illyriad for some time and therefore would not qualify for the player spotlight, but she replied that she is merely waiting to restart in the Broken Lands and wishes everyone to know that she thinks of them fondly.
Have you played many other online games or been active in other online communities?
I have been active on specialty bulletin boards and forums since the days of listservs. My first online game was an Evony clone, which I reached in around 2009 by way of an advertisement on the Los Angeles Times website. I had no idea such things existed. How I wish I'd found Illyriad then! But perhaps I appreciate Illy all the more for first having played something a bit different.
I still experiment with other MMOs from time to time — I'm particularly attracted to city-building MMORTs that have resource allocation as a substantial component. Perhaps my background in finance and investment is an influence here, as I mentally estimate the payback period and ROI (return on investment) of upgrading a clay pit vs. a lumberyard or calculating the most beneficial tax rate. (But I am not obsessive at all!)
Any hidden talents or interesting hobbies outside of gaming?
I love pretty much every creative activity involving fiber, from knitting to crocheting to embroidery, quilting and so on. I get very excited about the combination of fiber and color and have been known to hyperventilate in yarn or fabric stores. I am also interested in the history of textile production, both home production and industrial production, and the role that textile production has in broader history.
What keeps you playing Illyriad?
My alliance. The people of Crows Nest (nCrow) have a special place in my heart. They put up with me on days when I'm at my worst and more incredibly are mostly still willing to speak to me the next day. Behind the members of my immediate alliance, I would say there are many, many people in Illyriad who are special to me and whom I love to see every day — or as often as they drop by. And more than people in general, the new players who are discovering Illy for the first time. Probably one of my favorite things in the whole world is to watch new players dig in to the world of Illyriad, experience for the first time the wonder that I experienced.
I would say secondarily to the people of Illy, what keeps me in Illy is the promise of the game. I believe in the vision the developers have laid out for Illyriad and enjoy watching it come to fruition.
What's your favorite aspect of the game?
Other than the people, and especially new players (by far the best part of Illy), my favorite part of the game is that it's a sandbox. The game is not defined for us — we define the game within basic game mechanics. And we don't even all have to be playing the same game! Illy is a big, broad, deep, complex game, and it has room for everyone.
What's your proudest achievement in game so far?
What I'm proudest of is the everyday stuff. Hopefully encouraging someone when they are down, listening when someone needs to talk. Being a part of the community.
What are you most looking forward to for the future of Illyriad?
I am looking forward to the release of the Broken Lands. I never got the opportunity to be a newb among other newbs in Illy — by the time I got here, many people were fairly well established. I would love to experience an Illy where every morsel of wood, every pebble of stone, every ingot of iron, is weighed carefully. I am also looking forward to the release of the story arc. I love the faction lore and look forward to it coming to life and being shaped by players. (Including of course the inevitable downfall of the puppet of the Council of Illyria, the self-styled King of Illyria, Sigurd. Hail the Undying Flame!)
What area of the game do you think needs the most improvement?
I think what's most important right now is consistent progress. The developers have identified quite a number of priorities, all important, many of them delightful to some or all players, and I think what is important is that they continue to make incremental improvements. Players have been very patient, and consistent progress, even if slow, is really necessary to restore confidence and enthusiasm.
What advice would you give a new player in Illyriad?
I would say that Illyriad is your game as much as it is anyone's. You will get a lot of advice, some of it conflicting, from established players (me included). We will tell you how Illyriad "should" be played. And some of that is from our own experience of having tried other ways and failed abysmally! So it's worth listening to established players. But don't let that prevent you from playing your game in your way. Write your own story. Remake the world in your image. That's what a sandbox is for.
Oh, and for the sake of all that's holy: Upgrade your storehouse!