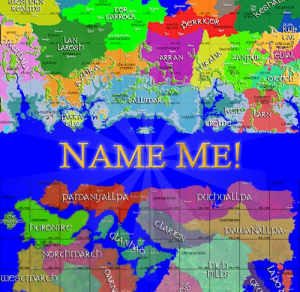 Recently we asked players to submit a name for the newly discovered massive strip of water that lies between Elgea and The Broken Lands. While we knew that we'd get a lot of entries, we weren't prepared for how good many of them would be! Some players submitted several at once, while other players preferred a single entry that was complete with definitions and origin. Just reading through the thread was a lot of fun.
Originally we were just going to pick the winner and announce it. Finally we decided to put up three different choices to see if the community backed up our original decision. We listed The Bitter Sea (submitted by Canesrule) or The Sea of Mercy (submitted by Arctic55) or Gateway to Wealth (LadyLifeGrows.) These are all great names because they are simple, easy to understand even for newbies, seem to have a story behind them and would read easily on the map. There were several names that were submitted but were other names for a developer or alliance and we didn't want it to seem like we were pulling favorites.
In the end, the votes echoed what we thought: The Bitter Sea is a brilliant name! The name also has a history in Illyriad. It used to be the name of a forum where players were allowed to vent more freely than we normally allow. It was closed due to a leaking roof and rat infestation.
The name The Bitter Sea does not need to be explained to feel epic or dangerous; it just feels like something an old sea captain might call it. Congrats to Canesrule for suggesting it, and enjoy your journeys across the newly-named sea!
GM Rikoo